If have push notifications enabled for your website/blog then using the push notifications you can able to earn money, let see below How to Earn Money from Push Notifications.
How to Earn Money from Push Notifications
To earn Website monetization with web push notifications you need to already have push notifications website.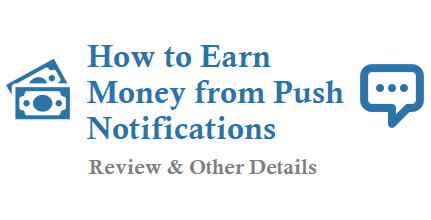 Earn Money from Push Notifications
Using PushPush.io Monetizing websites is easy with web push notifications.
Go to PushPush.io and create an account as website owner.
Steps for Push Notifications Monetization
You can see within 4 days I have made $1 just by sending an Ad to my subscribe using Push notification from Pushpush
1. Add a website where the web push ads will be delivered to.
PushPush pays for showing web push ads to the subscriber lists from SendPulse. Sign up for an account in the service, and add a generated code to your website.
2. Collect a subscriber base
3. Activate web push ads
4. Make money and get paid weekly and the minimum threshold is 10 USD and will be paid by Paypal every Monday.