If you have a website or blog then using Heat Map analytics you can know more details of your website like how many users visited, Page Views, Unique Pageviews, Time Spent on the website etc., and there is a free Heat Map tool from Google which you can create/implement or use on your websites.
Google Analytics HeatMap
First Download official Google's Page Analytics Chrome Plugin
Here is the link for Page Analytics (by Google) https://chrome.google.com/webstore/detail/page-analytics-by-google/fnbdnhhicmebfgdgglcdacdapkcihcoh
Install the Plugin and restart your Chrome Browser.
Now Enable the Page Analytics Plugin(See Top Right on Browser).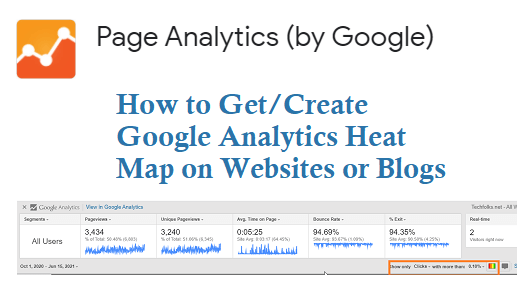 Page Analytics Chrome Plugin Features
Using Google's Page Analytics Plugin you can do the below things:
Google Analytics metrics: Pageviews, Unique Pageviews, Avg time on page, Bounce Rate, and %Exit.
Number of active visitors, in real-time
In-page click analysis: (where users click)
How to Use Google Analytics Heat Map
Open any Web page of your website or blog
Now on the Right Side click on Color's Icon, see the below image.

The very best reason advantage of the Page Analytics plugin is you can know how your website visitors interact with your web pages.